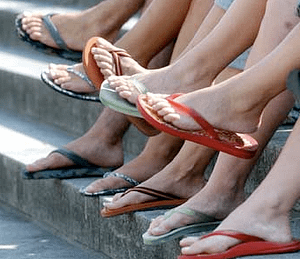 Walking basics: It is difficult not to noticeably cringe when I see women walking on the hard pavement while wearing fashionable, but dangerously high heels. With the warm weather season upon us, it is even more distressing to spot men and women alike utilizing flip flops as their everyday footwear. I see more and more patients resorting to this style trend in my practice at the Foot, Ankle & Leg Vein Center, currently located in the beautiful and sunshine-laden region of Boca Raton, Florida. Your feet are dependent on you to keep them healthy. I am convinced that healthy feet are critical in maintaining a proper weight. When feet become damaged, people tend to be less active. Like high heels, flip flops are a poor choice to provide the necessary support that your feet need. Studies have shown that flip flops are health hazards, and here is why.
Why Flip Flops Are Health Hazards
Flip flops have been shown to cause increasingly persistent foot and ankle pain because they throw off gait. At Auburn University, biomechanics researchers proved this theory by measuring foot impact in a group of college students wearing flip flops. This study was captured on film, and it revealed that wearers of flip flops took noteworthy shorter steps. This means that bodies were put under more stress just to get from one place to the next. When individuals wear flip flops, they tend to scrunch up their toes to hold them in place. This action prevents other muscles from aiding in the toes' ability to correctly lift off.
Over a period of time, die-hard flip flop wearers often began to experience joint and muscle pain in the lower extremities. At times, these individuals also complained of throbbing and tender toes. The esteemed American College of Foot and Ankle surgeons issued a report noting that flip flop wearers are more apt to complain of heel and arch pain due to plantar fasciitis. This issue becomes even more complex with people who lead more sedentary lifestyles or are considered overweight. Other foot problems that can develop with chronic flip flop use include sprained ankles, scrapes and cuts, sprained or broken toes, plantar warts, Achilles tendon inflammation, heel and toes callus build-up, and even Athlete's foot. When you stop to consider the dangers, it is hard to rationalize the worth of wearing flip flops.
Common sense tips
Flip flops are fine if used sparingly. Many pools encourage swimmers to wear them. They can be terrific footwear for getting a relaxing pedicure. These items should never be utilized when doing extensive walking or other arduous activities. Flip flops are definitely not meant for everyday wear. Everyone should invest in shoes crafted with superior support. Even sandals or going barefoot are better footwear options unless you are diabetic.
Final Thought
Think of your feet as your body's critical foundation. For further details, visit bocaratonfootcare.com. Contact 561-750-3033.