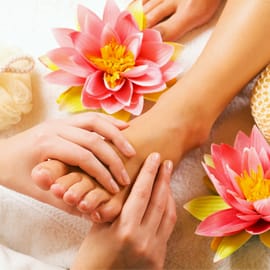 Foot care for arthritis sufferers. Various forms of arthritis can affect the joints in the feet. The symptoms from arthritis can make it painful to walk and can be disruptive to your everyday life. If you suffer from foot arthritis, proper foot care is essential to minimize symptoms and relieve any discomfort. By taking good care of your feet you can also prevent bunions, calluses, and other disruptive foot conditions.
Foot Care Tips for Arthritis Sufferers
Get ankle support or ankle splints
Avoid weight-bearing exercises
Get a foot massage
Try hot or cold foot soaks
Regularly practice stretching exercises
Exercise and weight management are also important if you are suffering from arthritis in your feet. However, you want to ensure that the exercise routines you are choosing won't cause your pain to worsen. Swimming and other water exercises are options to consider.
Tips for Buying the Right Footwear
Probably, the most important factor for foot care if you suffer from arthritis is footwear. Wearing supportive shoes that fit properly will help you manage pain and keep your condition from worsening.
Some tips for buying footwear when suffering from arthritis:
Have your feet measured. Your shoe size may change due to the symptoms of arthritis.
Get the right size. Make sure your toes are not touching the ends of your shoes. Also, try buying shoes that are wider and will allow room for possible swelling.
Check the soles. Try and buy shoes with rubber or synthetic soles. These shoes will have better grip and shock absorption.
Lace up. Try and find shoes that require fastening or lacing and will be secure on your feet.
Find support. Make sure that your shoes provide good heel and arch support.
Talk to your doctor. Talk to your podiatrist about specialty shoes and orthotics to ease your symptoms.
Your podiatrist can help you with proper treatment for painful arthritis; however, you want to ensure that you are taking all of the proper steps to manage the pain in your joints. The above tips can be beneficial to the treatment of painful arthritis.