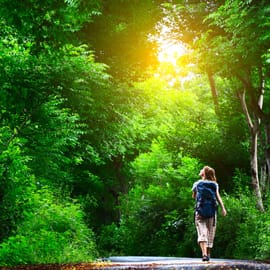 Exercises that focus on your legs are great for preventing spider veins and varicose veins in Boca Raton, but if you're like most people, running in place gets old pretty quickly. Though treadmills, elliptical machines, and exercise bikes can be convenient tools for breaking a sweat, they will not provide us with a crucial element of any exercise routine: excitement. If you're feeling a bit cooped up in your gym, it might be time to take things outside.
Exercise for varicose and spider veins can be as simple as a walk in the park or as adventurous as climbing a mountain. You don't have to limit yourself to the climate-controlled conditions of a fitness center or your home—in Boca Raton, we have gorgeous weather and access to world-class parks that are more than worth exploring after a visit to your vein clinic.
Take a Hike
Walking is a highly recommended form of exercise for just about anyone especially those with spider veins or varicose veins. It's accessible, low-impact, and easy to do just about anywhere, but taking your walking workouts to nearby trails will help you get even more out of every step. As the shifting terrain provides new challenges for your muscles, the sunshine, fresh air, and foliage will invigorate your body and your mind, and this can be a boon for the health of your whole body.
Ready for an exciting workout after treatment at your vein clinic? Try taking a hike at one of these scenic parks near Boca Raton:
Big Cypress National Preserve This massive wilderness area spans over 729,000 acres of South Florida swampland, containing a diverse array of flora and fauna. Tropical and temperate plants mix to provide a lush and vibrant hiking experience. The 1,400-mile Florida National Scenic Trail has its southernmost point here, stretching miles through Big Cypress before eventually ending at the Gulf Islands National Seashore. But remember: like the Everglades, which lie just to the south of Big Cypress, hiking will only be realistic in the dry season (between December and April). During the wet season, trails may be flooded with waist-deep water and are likely only a good choice for the most intrepid adventurer.
J.W. Corbett Wildlife Management Area. Once home to Seminoles who left their mark in burial mounds, this 60,348-acre wilderness now houses an array of wild animals: wild hogs, turkeys, deer, cranes, spoonbills, storks, and more. For a short but sweet hike, try the Hungryland Slough Boardwalk and Trail, a 1.2-mile stroll through a swamp filled with cypress, sawgrass, ferns, and bromeliads. The Florida National Scenic Trail also stretches 17 miles through Corbett, providing a more challenging hiking experience.
Hiking can be an excellent workout after treatment at your vein clinic in Boca Raton—just be sure that you're prepared with a good pair of hiking boots, a first aid kit, and plenty of water, bug spray, and sunscreen. Do you know of any other great trails near Boca Raton? Share your favorites with us in the comments below!