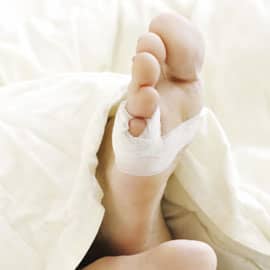 Those pointy-toed stilettos look great on your feet, but how do your feet look once you take those shoes off? Unfortunately for those with bunions in Boca Raton, footwear such as high-heeled sandals, pointy-toe flats, and other painful but adorable shoes are often to blame for this pesky problem.
There are plenty of lifestyle remedies you can try to treat a bunion, such as shoe inserts, medications, and wearing healthier shoes. When a bunion becomes severe, surgery is sometimes the best solution.  Depending on the severity of the bunion, bunion surgery can either encompass a small bone cut for a milder bunion or complete realignment of the structural issue for a larger bunion. Typically, it takes about six weeks for the bones of the big toe and the rest of the foot to mend into the corrected position after bunion surgery.
Here are some myths about bunion surgery and the facts to set them (and your bunion) straight.
You will have to be out of work for a long period of time: Depending on the demands of your workplace and the severity of your bunion, bunion surgery does not necessarily require patients to be out of work for long periods of time. In fact, some patients with milder bunions can return to work at a sedentary desk job within as little as two weeks after their bunion surgery. However, if your bunion surgery was more complex or your job requires excessive amounts of standing or walking, your surgeon may suggest a medical leave of absence which can last up to two months.
You have to walk around with a cast and crutches: This is one of the most common myths about bunion surgery. While being confined by a cast and moving around with crutches after bunion surgery was more common years ago, modern advancements in surgical technique have allowed foot surgeons to mobilize their patients faster. Bunion surgery for mild bunions generally involves wearing and walking in a surgical shoe for about six weeks. Still, surgeons may advise patients to consider casting and crutches in cases of larger bunions because of the complexity of their surgical realignment.
Deciding to undergo bunion surgery is ultimately up to you and your foot care specialist in Boca Raton. Depending on the severity of your bunion, surgery may just be the best option, or your podiatrist may suggest other forms of treatment, like finally retiring those ill-fitting shoes.