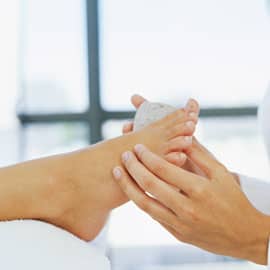 Summer is a time to let your toes be free as many of us ditch our closed-toed shoes and opt for safe sandals to wear around Boca Raton. But before we bare our pale toes to the world, many of us take some time to show our feet and legs a little pre-warm weather TLC. Whether you turn to laser hair removal in Boca Raton or opt for spider vein treatment, nothing prepares your feet for summer like a well-needed pedicure. Pedicures are a woman's way of saying thank you to her feet for putting up with painful high heels and carrying the weight of heavy purses day in and day out. However, you should take precautions to avoid getting an infection from pedicure, especially during the summer rush.
Pedicure enthusiasts should take care, as improper foot pampering could leave you walking away with infection rather than perfectly polished toes. Pedicure health risks include bacterial skin infections such as Methicillin-resistant Staphylococcus aureus (MRSA) and fungal infections such as athlete's foot, according to the American Academy of Dermatology. This doesn't mean you have to swear off pedicures for life—just make sure you take a few safety steps before indulging your feet to ensure proper foot safety. If you already suffer from existing foot conditions, always check with your podiatrist before having your feet groomed.
For your next pedicure…
Before Your Appointment
The American Podiatric Medical Association suggests scheduling your pedicure appointment first thing in the morning as the instrument and footbaths are typically cleanest towards the beginning of the day. In addition to scheduling an early morning appointment, ask the receptionist how much time is usually permitted between appointments—remember that pedicure disinfectants require a minimum of 10 minutes to work on soaking instruments.
Refrain from shaving your legs before having a pedicure. Experts warn against using hair removal creams or waxing your legs and feet in addition to shaving during the 24 hours before you receive a pedicure. Hair removal can cause cuts or minor abrasions that you aren't able to notice and such tiny openings in the skin's surface might allow bacteria or fungus to penetrate. If you are scheduled for laser hair removal in Boca Raton, make sure your appointment is well over 24 hours prior to your pedicure.
Before You Take Off Your Shoes
Don't hesitate to politely ask about the salon's disinfecting procedures concerning sterilizing the foot baths and presoaked instruments. Pedicure footbaths and instruments that are not efficiently disinfected could shelter bacteria and fungus that may lead to potential foot infections. You may also ask questions about the salon's disinfecting techniques over the phone when scheduling the appointment, but sometimes it helps to see things for yourself.
During Your Pedicure
Don't let yourself get too comfortable during the pedicure. While you are receiving treatment, don't let the nail technician cut your cuticles. Not only does pushing back the cuticle cause damage, but it can also increase the risk of infection to your feet. What's more, when the protective barrier of the cuticle gets removed it becomes easier for bacteria and fungus to enter.
Don't let your pedicure technician razor your feet to remove dead skin. If you want your feet smoothed, remove excess or dead skin at home with a pumice stone or foot file. When technicians razor dead skin during a pedicure, this process can easily remove too much skin and make your feet susceptible to infection or cause permanent damage.
In the days and weeks following your pedicure, be on a look for any sign of infection such as red, swollen, or itchy skin. If you do suspect you have an infection, visit Dr. Schoenhaus as soon as possible.