According to the Centers for Disease Control and Prevention (CDC), 54 million Americans suffer from arthritis. Almost half of this number find that arthritis limits their daily activities, and around one in four people experience severe joint pain.
Arthritis affecting the feet can be painful and may make it difficult to perform certain activities. Staying active is important for a healthy body and mind, but this can be difficult when battling pain, inflammation, and discomfort in your feet.
Thankfully, it's possible to get regular exercise even if you suffer from arthritis. Here are some tips from your foot doctor Boynton Beach to help you stay active.
Try Swimming for a Low Impact Workout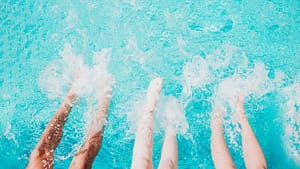 The CDC recommends maintaining a healthy weight and staying active to limit pain from arthritis. Keeping
yourself healthy will also improve mood and overall quality of life.
In Florida there's plenty of access to the water and swimming is a popular recreational activity. For fitness, there are pools available at gyms, sports centers, or maybe even your home. When you swim, you use your entire body, giving a strong workout to muscles and your cardiovascular system.
It's no surprise that you can burn excess calories by swimming. Freestyle can burn 206 calories every 30 minutes, while a breaststroke can burn almost 300 calories in the same amount of time.
Daily swimming, or even swimming every other day can help you to maintain a healthy weight range, lose excess weight, and condition your muscles, heart, and lungs. Most importantly, swimming doesn't require you to put any weight on your feet, so it's ideal if you suffer from arthritis.
Talk to your foot doctor Boynton Beach if you have concerns about your condition and want to make sure that swimming is safe. At the Foot, Ankle & Leg Vein Center, we can recommend exercises suited to your situation.
Try Cycling Outside or on an Exercise Bike
Cycling, like swimming, uses most of the muscles in your body while providing a valuable aerobic workout. If your podiatrist Boynton Beach has recommended that you maintain your physical activity but walking causes pain or discomfort, then you can get regular exercise on a bike instead.
When you cycle, outside or inside, you will benefit from an elevated heart rate that improves cardiovascular function. Regular cycling can reduce the risk of developing diabetes, increase energy, reduce stress, and strengthen leg and core muscles.
An hour of cycling at an average speed of 10 miles per hour can burn up to 260 calories in an hour, making cycling an excellent daily activity to maintain a healthy weight or reach your target goal.
Your podiatrist Boynton Beach may recommend cycling if your arthritis makes it difficult to walk or run. Investing in an exercise bike for the home could give you access to an excellent whole-body workout whenever you need it.
Treating Arthritis with a Foot Doctor Boynton Beach
Exercise may slow the progression of arthritis and help to manage the pain and discomfort, but it's not a cure. There are treatments available depending on the type of arthritis you are suffering from. If you find that arthritis is impacting your quality of life, it's time to talk to your podiatrist Boynton Beach.
Dr. Jodi Schoenhaus and Dr. Jason Gold are available at the leading foot doctor Boynton Beach practice. At the Foot, Ankle & Leg Vein Center, you can explore treatment options like joint arthroscopy, joint replacement, and joint fusion. Arthritis can be treated at all stages of progression. You don't have to simply suffer from the pain that it causes.
Schedule an appointment with the best foot doctor Boynton Beach today.