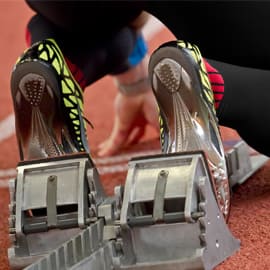 If you've started vein treatment in Boca Raton, you're probably already wearing your compression stockings regularly, but even those who don't suffer from spider veins and varicose veins are starting to see the benefits of these tight-fitting garments. Because some studies show that compression gear can speed the recovery of your muscles after exercise, they're becoming increasingly popular among athletes, making it a potentially prudent choice to bring your stockings to the gym.
How Can Compression Stockings Help with Exercise?
The idea behind compression clothing is simple: tight fabric applies extra pressure to your body, supporting the tissue while also helping to push blood through your veins. For years, compression clothing and stockings have been used in medicine and applied to everything from vein treatment to reducing leg swelling and helping wounds heal. Research clearly shows that compression clothing is effective in these purposes and can even improve movement in those who suffer from paralysis and arthritis.
Now, even those who are completely healthy are beginning to use compression clothing, largely because of new studies into their athletic benefits. Drop by any marathon and you're certain to see runners in tight-fitting stockings of all different colors, sporting the insignias of many different athletic brands.
The research on compression clothing's usefulness for this purpose is a bit shakier but still shows significant promise. Though many manufacturers claim that compression clothing can improve endurance and performance during exercise, these claims are largely overblown. Unfortunately, anyone who experiences these so-called benefits may actually be under the influence of the placebo effect—an analysis of various kinds of compression clothing showed that they don't have any significant impact on your abilities during exercise.
However, we do have convincing evidence that compression clothing can help your body recover after exercise. By improving your circulation, compression gear can help your muscles bounce back faster and prevent soreness later.
What does this mean for your workouts during vein treatment in Boca Raton? Though it may not help to wear your stockings during exercise, putting them on just after can help your muscles stay fresh for another day of exercise while providing all the same varicose vein and spider vein fighting benefits you needed them for in the first place.