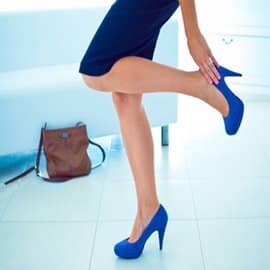 Are foot and ankle problems worse for women? The founder of the Foot, Ankle & Leg Vein Center takes this question seriously. Far too many medical doctors and surgeons simply treat these conditions without considering the effects of gender. Until now, very little research has been devoted to this subject. Valid studies have proven that males and females have differences that should be evaluated when determining the cause of many common ankle and foot conditions. One notable study showed that women tended to have approximately 16 percent definitely thinner cartilage overall. Not only that, their surface area in the ankle, subtalar and talonavicular joints showed a 20 to 25 percent reduced volume that could have substantial significance.
The effects of women desiring fairy tale shoes
Many women follow runway footwear trends that can be hazardous to their health. Sure, those high heels might look sexy, but ladies often pay a huge price in the name of style. Everyone should attempt to wear proper fitting and comfortable shoes the majority of the time. Those fashionably hot, narrow-toed, perfect-looking high heels are apt to cause unhealthy toe crowding and plantar pressure increases that can lead to painful and disfiguring bunions down the road. Other detrimental conditions like hammertoes, bunionettes, and severe neuromas can also develop if individuals do not wear appropriate shoes.
Some studies indicate that up to 88 percent of females regularly put on shoes that are a smaller size than what their feet require. About 70 percent of women that were studied wearing these inappropriate shoes also were found to suffer from a deformity of the hallux valgus (bunions.) These are associated with this unwise practice. In fact, some experts claim that two to four times more women than men suffer from this often preventable condition.
Doctors are now looking at intrinsic differences between the feet of males and females
It is critical to see a foot specialist that has the latest knowledge about both female and male foot and ankle anatomical structures. Dr. Schoenhaus keeps her training current, and both men and women can count on her amazing expertise in this fast-changing field of practice. It is not just the extrinsic foot factors that matter. For a thorough and qualified evaluation of any foot and ankle issue, females especially should seek out a doctor that realizes that intrinsic gender differences are crucial in obtaining the best diagnosis.
Seek new preventive and corrective foot and ankle solutions
Patients can get sound, cutting-edge advice on these troubling health conditions by frequenting the Foot, Ankle & Leg Vein Center. Women may be prone to ankle and foot problems that are worse for them. Visit bocaratonfootcare.com and click the blog section. Contact 561-750-3033.