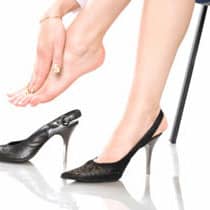 High heels to women are like an expensive pair of golf clubs to men—we may not necessarily know how to walk in them (or in their case, actually know how to play golf) but at least we look good trying. Wearing high heels can cause women innumerable foot ailments such as neuromas, ingrown toenails, plantar fasciitis, bunions, knee, and leg pain, yet, we continue to wear them.
Beauty is pain they say, but is wearing these tiny torture devices worth the price?
As we wear high heels, we change the biomechanics of walking which impacts the entire structure of the foot's relationship to the knee, ankle, and the lower back. You may not be able to quit wearing high heels cold turkey but there are steps you can take to keep the damage to a minimum.
Here are some tips to avoiding pain associated with wearing high heels:
Make sure your shoes actually fit. Sometimes it's just too hard to say no to a pair of heels even if they are half an inch too small or too big, but making this mistake can really cause unnecessary painful side effects. Shoe sizes differ from brand to brand so measure your foot properly each time before purchasing a new pair of heels and make sure they fit properly.
Steer clear of pointy-toe high heels. Instead, look for shoes with a squared or tapered toe to avoid unnecessary pressure on your toes while inside your shoes.
Wear a silicone sleeve to protect your toes. If you suffer from bunions or hammertoes, you may want to try using a silicone protective sleeve when wearing high heels that cause pressure on the soles of your feet. This will cut down on the rubbing inside your shoes but make sure your toe box is wide enough to accommodate the sleeve or you may be causing yourself more trouble.
Use the three-inch rule. A high-heeled shoe is any shoe with a heel greater than two inches. So, to keep pressure to a minimum avoid excessively tall heels and try to wear heels that are shorter than three inches at most.
Knee Pain? Avoid high heels altogether. Studies show a 26 percent increase in stress on the knee when women wear heels higher than two inches. If you already have knee problems, wearing high heels can also increase your chances of developing osteoarthritis. Osteoarthritis occurs when the pressure caused by high heels restricts the nutrient absorption from fluid in the knee causing the cartilage to dry out or shed.
Never self-medicate calluses or corns. High heels are known to increase calluses and corns on your toes, but make sure you never attempt to medically fix these conditions on your own. If you do suffer from such foot ailments, it's important to contact Dr. Schoenhaus before using any over-the-counter corn removers. These removers contain acid plaster that can cause nasty sores and infections.
Stretch your toes. After being cramped inside your high heels for a long period of time, you should take the extra time to stretch your toes to help increase blood circulation.
Although it's difficult to say no to wearing high heels all of the time, there are steps we can take to help reduce further injury or pain caused by wearing our coveted fashion statements. If you do suffer from chronic pain, burning, or tingling in your feet you should consult your podiatrist as it could be a sign of a more serious health issue.