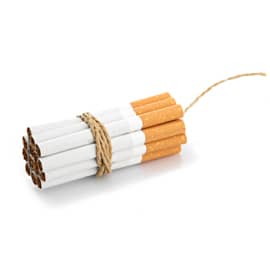 Certainly, it's common knowledge that smoking cigarettes is bad for your health, yet there are still approximately 440,000 deaths per year related to tobacco use. Among its many negative health effects, smoking damages blood vessels, putting a person at risk for vascular diseases including peripheral arterial disease, which can lead to heart problems and leg pain.
What Is Peripheral Arterial Disease?
Peripheral arterial disease, or PAD for short, means that the arteries in the legs become obstructed and don't allow for sufficient amounts of blood to flow through the leg muscles. It affects an estimated 8 million Americans and is more common in men than women. Its risk factors are the same as atherosclerosis' and include cigarette smoking and tobacco use, diabetes, hypertension, and dyslipidemia.
Some people with mild Peripheral arterial disease may be asymptomatic, but others may experience symptoms. Smoking is the leading cause of peripheral arterial disease and may lead to symptoms such as leg pain and muscle cramping. Other symptoms of PAD include:
Numbness of the leg or legs
Lesser hair and nail growth on one or both legs
Sores
Ulcers
Change in color or temperature of one or both legs
Additionally, PAD has been linked to an increased risk of heart attack.
Treatment for PAD
There are many methods of treatment for PAD, including angioplasty and stenting, but with smoking as one of the main risk factors, many people who were heavy smokers have experienced significant improvements in their PAD after they quit smoking.