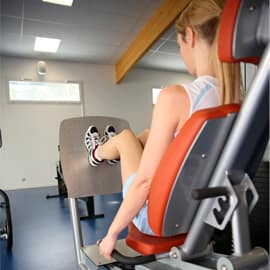 During varicose vein treatment in Boca Raton, it's wise to be wary of causing further damage to your legs, but this doesn't mean you should avoid exercise. On the contrary, regular exercise can be a big help in preventing varicose veins and spider veins—your veins rely on your muscles to aid in circulation, so building strong leg muscles with exercises such as weightlifting can help you both manage and prevent vein disease.
Nothing will help you stay strong quite like lifting weights, and though you may think of weightlifting as primarily an upper-body workout, there are many strength training exercises that address the lower body as well. Still, you'll need to take a few precautions when you approach a weightlifting routine to ensure that your leg workout stays as healthy and beneficial as possible.
Though you should always check with Dr. Schoenhaus before adding new activities to your workout, most people can give their legs a safe weightlifting workout by:
Warming up. It's important to always prepare your muscles for the challenges ahead, even if you don't have spider or varicose veins. Stretch your calves, quads, and hamstrings to get the muscles ready, then jump into some light cardio exercise to improve your circulation. Spend at least 15 minutes stretching and warming up with light activity before starting to lift weights.
Taking a seat. If you lift weights while standing, your legs will need to support both your body and the weights you're hefting. Take some pressure off your leg veins by switching to seated strength exercises. A leg press machine or seated quad and hamstring machine can help with this immensely, so see if your gym has them available and ask a trainer if you need any help learning how to use them.
Going slowly. As with any kind of exercise, you should never give your body more than it can handle—doing too much too fast can cause injury and further problems in your veins. Be sure that you only lift as much as your body can take and increase the amount of weight you lift gradually.
Cooling down. You need to let your body relax during weightlifting, especially if you have varicose or spider veins. Let your muscles and veins unwind by spending 10 minutes after your workout on light cardiovascular activity and stretching. You can also put on compression stockings after your workout and elevate your legs to improve your circulation and help your muscles recover.
Because strong muscles will help you maintain strong veins, adding strength training to your workouts can be a huge help during vein treatment in Boca Raton. If you have any questions or concerns about lifting weights during vein treatment, don't hesitate to ask Dr. Schoenhaus for her advice.