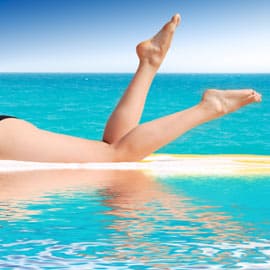 Let's face it—we all get sick of looking down at our legs and seeing unsightly spider veins but we often don't decide to take action until summer rolls around. Blame it on Boca Raton's warm weather and the urge to wear more dresses and bathing suits, but undergoing spider vein treatment during the summer months will require some patience.
Treatment for spider veins isn't a one-stop-shop—it may take several appointments to reach the best cosmetic results. This can be tricky since summertime is when we want to show off our beautiful bare legs the most.
Here are some tips on how to survive your summer and make the most of your spider vein treatments!
Be patient – As mentioned before, spider vein treatment results won't happen overnight, though time is precious when warm sandy beaches are calling your name. The best thing you can do is practice patience and understand it could take several weeks to reach satisfactory cosmetic results. Many factors play into your treatment time frame, including how many veins are being addressed, their sizes, and which type of spider vein treatment Dr. Schoenhaus has recommended for your spider vein issues. It's best to start as early in the Spring as possible when considering treatment for spider veins.
Don't overheat in your compression socks – Many spider vein treatments require patients to wear compression socks to facilitate the best results. Depending on the severity of the spider veins being treated, compression socks can be worn from anywhere between two days and two weeks. However, wearing compression socks in the summer can be hot, so ask Dr. Schoenhaus if there is a lighter pair of socks you can wear, 15 to 20 mmHg should keep you cool. Also, there are some times where it's appropriate to take off your socks such as when you're swimming in a pool or other body of water. Make sure to check with Dr. Schoenhaus first, though!
Time spider vein treatment right – Summertime is also a time for travel, so don't let your spider vein treatment and recovery interfere with your plans. To avoid any miscommunications, it's best to discuss any travel or vacation plans you think you may have with your vein treatment physician before beginning treatment. If you plan and work together, you may be able to work out a treatment plan without sabotaging those summer travel plans.
Protect treatment areas from the sun – Spider vein treatments do sometimes result in permanent discoloration of the skin near the treatment area known as bronzing. Though bronzing may not occur, exposing the treated skin too prematurely to UV rays of the hot Florida sun could increase your likelihood for this condition. Always stick to Dr. Schoenhaus' recovery plan and shield your treated areas from the sun during the initial weeks of recovery by wearing sunscreen with a high SPF.
If you're looking to bare your beautiful legs this summer and seek treatment for your spider veins, speak with your foot care specialist today to figure out the best treatment plan for you.