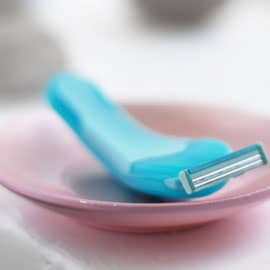 As you travel around Boca Raton or any other part of South Florida you will be hard-pressed to find someone who isn't practicing hair removal. In the land of short-shorts, tank-tops, and sundresses, smooth legs are a way of life in Boca. However, when you stop and ask someone why they are removing hair the way they are, most people don't have much of a reason. Shaving is simple, waxing is efficient, and laser hair removal is permanent, but what types of hair removal methods are best for you?
What's best? Shaving, Waxing, or Laser Hair Removal in Boca Raton?
When it comes to finding a quick fix for removing hair from unwanted areas, shaving is the go-to choice. It is quick, it is cheap and for the most part, it is painless. Painless, that is until you knick your skin or wind up with razor burn from an old blade. You can shave your legs, your armpits, or your face every morning in the shower for smoothness that will sometimes last all day.
If there is one pitfall to shaving, it is that the hair always grows back—and it grows back quick. That is why so many people turn to waxing. A step up from shaving, waxing removes the hair follicle in addition to the hair sticking out above the skin. Since the follicle is removed the hair takes longer to grow back, and the more often you wax the weaker the follicle becomes. Though painful, waxing is an efficient way to remove large areas of hair.
Understandably, a lot of people aren't very keen on the idea of putting hot wax on their skin only to have it torn off rapidly and repeatedly as it pulls hair follicles up with it. That is where hair removal practices take another step up and laser hair removal is introduced to the conversation.
Laser hair removal generally requires a few treatments to permanently remove hair, but you can actually start seeing a difference after just one treatment. In just five treatments hair can be removed from absolutely any part of the body with almost no pain, discomfort, or irritation to the skin.
While shaving and waxing are the easiest and most common types of hair removal methods, they are generally left to amateurs or DIY adventurers. Laser hair removal, on the other hand, is completed by a cosmetic specialist in a clean and controlled environment. That makes it one of the safer options in hair removal, as you are decreasing your risk of bleeding, exposing yourself to infection or experiencing a rash.
The next time you are soothing a razor burn it might be time to ask yourself if laser hair removal is a better option after all.