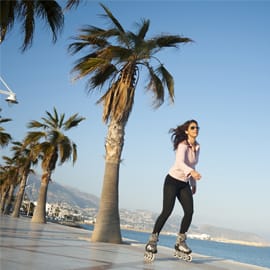 Few things will help you prevent spider veins and varicose veins in Boca Raton quite like low-impact exercises. Working out can boost your blood flow and prevent weight gain, both of which will help you keep vein conditions under control.
However, not all workouts are ideal for those with varicose veins. High-impact activities, which typically involve running or jumping, will put extra pressure on your legs and may make vein swelling worse. Because of this, your best bet in addressing varicose veins with exercise is to stick with low-impact activities that help you build strength in your legs. Low impact, high excitement exercises for varicose veins are great ways to have fun and prevent varicose veins.
Though walking and cycling can be great low-impact workouts, these are far from the only ones. There are countless ways to get the low-impact exercise you need to keep varicose veins under control and have a little fun in the process. To make the most of your low-impact workouts, try exciting activities like:
Paddleboarding. Here in Boca Raton, we've been given the gift of excellent weather year-round, while the Atlantic Ocean offers countless ways to get fit that are inaccessible to our landlocked neighbors. Paddleboarding is an increasingly popular activity in beachside communities and can be an excellent way to promote whole-body fitness. Keeping your balance on a board of 12 feet or longer will inevitably give your legs a great workout, but paddleboarding can also be a fun way to spend an afternoon exploring the aquatic surroundings of Boca Raton. Try renting a paddleboard and taking a lesson to learn the basics of the sport.
Dancing. Taking a dance class can be an excellent way to strengthen your legs and build balance and flexibility, but it can also be a cultural experience. A class in tango, bhangra, or Zumba is sure to help you break a sweat and explore the music and movements of other people. There are endless different forms of dance to choose from, but be careful to stay low-impact—some dance classes, including higher-intensity Zumba classes, will require jumping that puts extra strain on your legs.
Rollerblading. Though cruising the boardwalks of Boca Raton on rollerblades may feel like a 90s time warp, it will also be an excellent workout for your legs. If you still have an old pair of inline skates lying around, strap them on for a fun day in the sun, or hit a local skating rink and rent a pair. If you'd rather get a taste of the chilly winter we miss out on in Boca Raton, ice skating can also be a great workout.
These are far from the only low-impact exercises for varicose veins that can help you keep vein diseases under control. What are your favorite low-impact workouts? Tell us in the comments below!