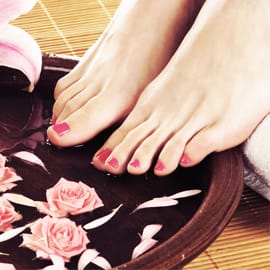 Everyone likes to pamper themselves from time to time. A frequent "go-to" activity for a day of pampering is a pedicure. Pedicures are a great way to relax and get your feet taken care of. However, getting a pedicure at a nail salon could increase your chances of picking up a bacteria, infection, or other common foot conditions.  Below are tips to help you avoid infection from nail salons.
Some common infections that could be picked up from the salon include:
Athlete's foot
Warts
MRSA (staph infection)
Mycobacterium fortuitum (an infection that causes boils)
These infections are often contracted due to unsterilized nail tools, pumice stones, and tubs. To reduce your risk of developing any of the above conditions, you want to ensure that your local salon is clean and up to health code standards. Don't avoid salons out of fear of infection, but be aware of the condition of the salon you are frequenting.
Tips to Help You Avoid Infection from Nail Salons:
Avoid the bubbles. Bubbles in the foot bath are always a nice touch, but the jets in the whirlpool baths can harbor bacteria and fungus.
Sterilize! Make sure that your pedicurist is sterilizing their tools after each client. And know that any non-metal tools being used should not be used on more than one client.
Ask for what you want. Tell your pedicurists how you would like your toenails trimmed and be sure to go for a square shape instead of an oval to avoid ingrown nails.
Avoid shaving. Don't shave your legs directly before a pedicure; this makes you more susceptible to infection.
Don't cut the cuticle. Your cuticle is a protective barrier for your nail, if cut, you can become at risk of getting an infection.
Bring your own tools. If you want to avoid the possibility of sharing tools with someone else's feet, try bringing in your own nail clippers, files, and pumice stones.
When it comes to your feet, you don't want to take any chances. Be aware of your nail salon's cleaning and sterilization methods. Don't compromise your foot health for a cheaper price or deal. Pamper yourself by taking the best care of your feet that you can.