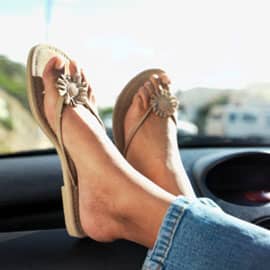 It is summertime in Boca Raton and that means it is time for…. foot pain? If you are not careful this summer as you shake the sneakers and office shoes for your favorite flip-flops, then yes it may be.
Just about everyone experiences foot pain. One survey from a few years ago estimated that eight out of 10 adults experience foot pain as a result of poorly-fitted shoes. You might develop a brief ailment like a blister as a result of shoes rubbing on your toes or heel, or a more serious concern like a bunion could develop after years of poor footwear. Either way, preserving the health of your feet by wearing stable, well-fitted shoes is one of the best ways to prevent foot pain.
During summer in South Florida, full shoes are a rarity. Most of us are constantly on the move trying to avoid the 100-degree heat or dashing out of an afternoon thunderstorm. Beaches are only minutes away and everyone is ready to kick off their shoes and relax.
Flip Flops and Foot Pain
Researchers at Auburn University recently set out to determine if and why flip flops are a culprit for foot pain, and their findings were not too surprising. Flip flop change how you walk. Instead of moving forward with the proper heel-toe action, flip flops cause people to take smaller steps and strike the ground with their ankle at a sharper angle.
Researchers speculate that a lot of the reason behind flip flop's ill form is that walkers often have to grip their shoe with their toes as they walk, which throws off their gait.
As you lose the shoes this summer and reach for your sandals, keep your feet in mind with these simple tips:
Find support: Paper-thin sandals do not offer any support for your arch and can often cause tendon and ligament injuries, especially if you walk around in them a lot. Purchase sandals that have firm arch support in them.
Padding is important: Padding in a shoe does more than make it pillow-like when you walk. Padding will absorb shock as you step, taking pressure off your heels.
Mix it up: Summertime lasts almost half the year in South Florida. Invest in a couple of pairs of quality sandals and don't wear the same ones day in and day out. That way your feet won't be subject to the same shoe concerns every day.
Buy pool shoes: Those super thin small sandals aren't good for everyday wear, but they are great for the pool and beach. Find a pair of sandals to wear with your bathing suit. This will prevent you from carrying some sort of fungus from the pool into your office as you stride around in the same leather flip-flops.
As a general rule, sandals and flip-flops are OK to wear for short periods of time. If you are going on vacation, planning on walking a lot at work, or are heading to the mall then don a pair of sneakers instead. By wearing flip flops in moderation you can prevent a good deal of pain.
If you have any more questions about the best footwear for your foot pain, talk to Dr. Schoenhaus.