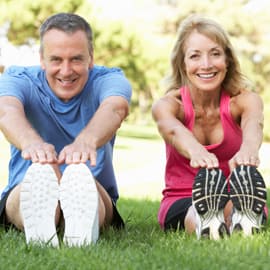 The heel pain of plantar fasciitis can make exercise seem impossible, but if you've seen your podiatrist in Boca Raton, you may be well on your way to getting back on your feet. Still, you'll need to be careful about how you return to your exercise routine after plantar fasciitis to ensure that you don't cause yourself further pain. By closely following your podiatrist's instructions, and returning to exercise in a slow and gentle way, you can help yourself recover and leave this common cause of heel pain behind you.
You should never begin exercising after plantar fasciitis without first speaking with your podiatrist about the safest ways to do so. Always defer to your podiatrist's judgment, as she is the one best equipped to provide information about your individual case. However, most people are able to begin exercising after plantar fasciitis by:
Getting all the rest you need. Don't attempt to exercise until all the pain of plantar fasciitis is gone. Any aggravation of the bottom of your foot may cause plantar fasciitis to come back with full force. Once your heel pain diminishes, it may be best to avoid unnecessary activities and instead save your feet for your workout. Stick with low-impact exercises in short bursts that minimize pressure on the heel and leave little risk of injury. Always take a break if you need one.
Staying supported. Quality footwear can be one of your biggest assets in preventing plantar fasciitis, as well as many other foot conditions. You should always exercise in shoes that lace up and have good arch support and cushioning. It may also help to use shoe inserts or orthotics that provide extra structural support.
Stretching your muscles. Tightness in the calves can be a big contributor to plantar fasciitis, so be sure you're stretching your leg and foot muscles thoroughly before every workout. This can be done by sitting on the floor with one leg outstretched and then pulling back on your toes with your fingers for 30 seconds at a time.
Working out later. Plantar fasciitis is usually at its worst in the morning. Your pain and stiffness may ease as the day goes on, so waiting until late in the day to work out can make it easier to exercise.
Finding over-the-counter relief. Medications like ibuprofen can ease the inflammation caused by damage to the plantar fascia, providing symptomatic relief. Icing the area may also help.
Regular exercise is a crucial part of staying healthy, but the heel pain of plantar fasciitis can make exercise seem like more pain than gain. Speak with your podiatrist in Boca Raton for more specific advice on how to begin a pain-free exercise routine after plantar fasciitis.