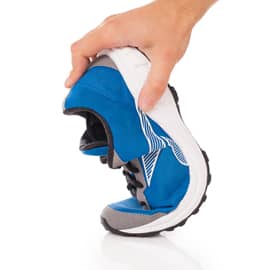 A good pair of walking shoes is an important part of good foot care, especially if you exercise frequently. Walking shoes that fit properly can prevent sore feet, blisters, calluses, and other foot conditions that may require medical attention or specific foot procedures. Here are tips to help choose the right walking shoes.
Consider Width and Length
Avoid shoes that are too narrow or too wide. A poor fit can cause painful blisters and calluses. Pay special attention to the toe-box portion of the shoe (the area that covers your toes). Choose a shoe with a toe box that is wide enough, long enough, and high enough to provide you the comfort you need. Your toes should be able to move freely and your heel should not slip.
How to Choose the Right Walking Shoes for Your Arches
Your walking shoes should be designed to meet the specific needs of your arches—the parts of your feet that help distribute your body weight evenly. Figure out what type of arches you have and what type of support would be best before you select a new pair of shoes.
High arches. High arches can put added strain on your joints and muscles because your feet may not absorb shock as well. You'll need extra cushioning to make up for your lack of natural shock absorption. You might also look for a shoe that curves inward at the insole.
Low arches or flat feet. Flat feet or low arches may also contribute to excessive muscle stress. Find a walking shoe with a straight last (or sole) and motion-control features to help stabilize your feet.
Neutral arches: If your feet are neither overly arched nor overly flat, wear a walking shoe with firm midsoles, straight to semi-curved lasts, and moderate rear-foot stability.
If you're not sure what type of arches you have, make a footprint of your wet foot on a piece of cardboard. If you can see most of your foot, you probably have flat feet or low arches. If you can only see the ball and heel of your footprint, you should consider your arches high and shop accordingly.
Tips for Buying Walking Shoes
The right pair of walking shoes will make your walking program more enjoyable and help you avoid injuries. Learn how to shop smart and choose the right walking shoes for you with these helpful tips:
Shop at an athletic shoe store that employs professional fitters.
Try on shoes with the same socks you plan to wear when walking.
Shop later in the day, and after you've done some walking around so that your feet will be at their largest.
Measure both of your feet every time you buy shoes. Your shoe size can change gradually over the years and it's important to have the most accurate measurement possible. Be sure to measure your feet when you're standing up.
If one foot is larger than the other, buy shoes that fit the larger foot. Always try on both shoes in a pair.
Find a pair of shoes with at least one half-inch of space between your longest toe and the end of the shoe. You should be able to fit a finger-width between the end of your foot and the tip of the shoe.
Pay attention to the width of the shoe. Look for a shoe that's snug, but not tight.
If you're a woman with wide feet, try on men's or boys' shoes. Men's styles tend to be cut larger through the heel and ball of the foot.
Your heel should fit snugly in each shoe. Walk around the store and make sure your heels don't slip as you walk.
Always walk around in a pair of walking shoes before making a purchase. The shoes you select should be comfortable immediately and not require any "breaking in."
When you're shopping for new walking shoes, pay attention to fit, form, and function. Also, keep in mind that new technologies promoted by shoe companies are not nearly as important as finding a comfortable shoe that fits properly.
When it comes to your walking shoes you want to make sure that you find a comfortable and supportive pair that won't lead to excessive strain or damage to your feet. Your foot care is an important factor in your overall health so you want to ensure that you are treating your feet right.