If you're experiencing vein issues but aren't sure if they're severe enough to see a doctor, there are a few things that you need to know. Pain in your lower legs is not something that should be ignored. Veins are crucial to health. They ensure that blood is pumped safely and consistently to tissues and organs.
Serious complications can occur if you ignore problems, and treatment could become more complex.
Protect your health by knowing when it's time to book vein treatment Boca Raton.
Call Your Vein Doctor Boca Raton if Your Legs are Weak in the Evenings or After Standing

It's normal to feel some fatigue in your legs after standing for long periods, but there are some giveaway warning signs to watch out for, especially if the pain is frequent and moderate to severe.
It's likely that you need vein treatment Boca Raton if:
You regularly end the day with extremely weak or tired legs, even if you haven't performed intensive physical activity.
Your legs become painful or sensitive after standing or walking for long periods.
These symptoms could indicate varicose veins or another underlying issue. A podiatrist Boca Raton can examine your legs and veins to identify the problem and recommend a treatment.
Do You Have Itchy, Dry Skin or Rashes Around Your Ankles?
Discoloration, dry skin, frequent itching, and rashes around your ankles could indicate an untreated vein problem. Damage veins will prevent proper blood flow and your skin will start to change. What appears to be a simple rash or discoloration could progress into a dangerous ulcer. If an ulcer develops, you'll experience debilitating pain and the treatment process will become more difficult.
It's best to address these problems early. If you have noticed changes around your ankle, your foot doctor Boca Raton will be able to isolate the cause and prepare a vein treatment plan if necessary.
Your Veins are Bulging or have Turned a Deep Blue or Purple Color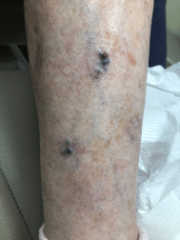 Here's another clear sign that you've developed a problem that requires vein treatment Boca Raton. Bulging
veins or blue and purple veins could be caused by swelling and irritation. This is a common symptom of varicose veins. Blood clots can form which restricts normal flow and lead to further complications.
In the worst-case scenario, you could develop DVT (Deep Vein Thrombosis) without treatment. Blood clots could move through your veins, up into one of your lungs. The result is a pulmonary embolism, which can cause anything from a sudden bloody cough to chest pain, and even heart failure.
A pulmonary embolism is not something that anyone should have to endure. In most cases, this is completely preventable by having your vein issues diagnosed early. Watch out for the signs, and call your podiatrist Boca Raton if you can relate to the symptoms above.
A Tender Lump Could Be a Sign to Book Vein Treatment Boca Raton
Blood clots won't always show with changes in your veins like those mentioned above. Sometimes, the only indication is a tender lump on your leg. This lump can indicate a blood clot below the skin that is otherwise invisible.
Not all lumps are related to vein issues, but it's important to have peace of mind by visiting your foot doctor Boca Raton. If the problem is serious, treatment will be arranged and you'll take comfort knowing that the underlying issue is being addressed. If the lump turns out to be benign or unrelated, you'll feel better hearing the doctor's diagnosis.
You're Currently Pregnant and had Vein Issues with a Previous Pregnancy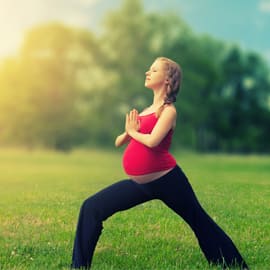 Pregnancy is an amazing and lifechanging experience, but it can also put your body through extreme stress. Pregnancy can lead to enlarged veins with increased pressure. The problem can worsen with second and subsequent pregnancies.
Varicose veins that develop in the first pregnancy can become more severe. If you have noticed changes in your veins, or have felt pain in the veins of your lower legs, it's time to talk to a healthcare professional. A podiatrist Boca Raton can perform a complete examination to identify previous damage and any lingering problems.
Book an Appointment at the best Center for Vein Treatment Boca Raton
The Foot, Ankle & Leg Vein Center is your local foot doctor Boca Raton. We treat conditions like spider veins and varicose veins using proven treatments like sclerotherapy, laser vein treatment, radiofrequency ablation, and Endovenous laser treatment.
If you can relate to any of the symptoms and conditions described above, or if you have other concerns regarding vein health in your lower legs, it's time to talk to us.
Schedule your appointment today and enjoy the confidence that comes from visiting the best center for vein treatment Boca Raton.