With all of the time that you spend on your feet, it should be no surprise to learn that your foot health is one of the most important aspects of overall health and wellbeing. When your feet and lower legs don't perform as they should, you could face mobility problems, pain, and discomfort throughout each day.
At the Foot, Ankle & Leg Vein Center, it's our passion to preserve the good health of our patients with cosmetic and medically necessary surgeries and procedures. With a qualified podiatrist Boynton Beach, you can overcome any ailment or injury.
Learn about some of the most common and some of the more complex foot problems that we can help you with today.
Visit Your Podiatrist Boynton Beach with These Common Problems
Age, lifestyle, and the type of sports you enjoy can all have an impact on your foot health. Sometimes, problems can occur without any obvious cause.
We're here to diagnose and treat a broad range of foot problems so that you can enjoy life for all it has to offer.
Some of the most common foot problems you can treat with your podiatrist Boynton Beach include:
Bunions: Has your big toe developed a bony bump facing outwards, or is the toe bending inwards to meet your second toe? If you notice this kind of deformity and find it difficult to walk or wear shoes, you may need bunion treatment. We can diagnose bunions and can offer effective surgical remediation.
Plantar Fasciitis: If you experience frequent pain in the bottom of your heel, especially in the mornings when you wake up, then you could be suffering from plantar fasciitis. This condition is relatively common, affecting more than three million people every year. Physio, orthotics, and, in some cases, surgery can be used to correct the issue.
Sprained Ankle: More than 200,000 Americans visit a doctor for an ankle sprain each year. While a minor sprain can often be treated with rest, physical therapy, compression, and time, some injuries could be severe and more complex. Repeat injuries can lead to chronic instability, which requires surgery for correction.
Any time you experience pain or discomfort in your feet or lower legs, take note. Pain is never normal. If it persists, contact your podiatrist Boynton Beach.
Complex Foot Problems You Can Treat with Your Podiatrist Boynton Beach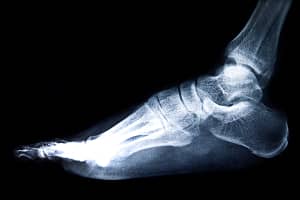 Sometimes foot problems are more complex. Our talented podiatrists are ready to diagnose the condition and set you on a path to treatment and recovery.
Flatfoot Surgical Correction: A flat foot can cause pain with age, particularly around the ankle. This can interfere with daily activities and limit mobility. Surgical reconstruction is sometimes needed when the arch has collapsed. Orthotics and braces may help some patients. Treating flatfoot is complicated, so it's important to schedule a consultation with your podiatrist Boynton Beach when pain and other symptoms become frequent.
Fractures: Broken and cracked bones are more complex than most issues. Because the feet and lower legs are so important, you need treatment options that preserve your range of motion. Setting a bone and allowing the natural healing process isn't always enough. Surgical intervention is sometimes required, especially for multiple fractures or compound fractures
Vein Treatment: While vein problems like spider veins and varicose veins are relatively common, this doesn't make them any less complex. To treat vein problems the right way, you need to visit an experienced podiatrist Boynton Beach. At our clinic, we use advanced diagnostic and treatment techniques, including laser treatment, radiofrequency treatment, and innovative Venaseal® treatment.
We've covered just a few of the common and more complex foot problems that you can treat with your podiatrist Boynton Beach. This short list is by no means extensive.
If you are suffering from pain, discomfort, changes in the appearance of your skin or veins, or even a loss of mobility (even to a minor degree), it's time to talk to us. Our talented podiatrist team offers the most professional care with a thorough diagnosis and effective treatment plans.
Protect your foot and ankle health, and you'll enjoy a happier and more active life. Contact us today to schedule your appointment.