What are some of the conditions a Foot & Ankle Doctor in Boynton Beach treats?
Some of the conditions our foot and ankle doctor/podiatrists treat are fractures, tendonitis and sports injuries, plantar fasciitis and heel pain, arthritis, bunions, and varicose and spider veins.  We provide custom orthotics, stem cell therapy, PRP (protein rich plasma), radial shock wave therapy and medical pedicures, all on site. We are on the forefront for cushioning procedures of the foot providing relief for fat pad atrophy.  Dr. Schoenhaus is in the process of completing the first FDA approved study to help reduce pressure areas on the foot with the use of dermal fillers,  Juvederm and  Voluma.
At the Foot, Ankle & Leg Vein Center our Board Certified Foot and Ankle doctors treat everything in the lower extremity and will come up with a treatment plan tailored for you. You can feel comfortable knowing that you are in experienced hands and are getting the newest and best treatment for your condition. The community and our peers have spoken and we have won numerous awards including Best of Boca Podiatry from the Sun Sentinel and Best of Palm Beach from Palm Beach Illustrated.
Treating Pediatric Foot and Ankle problems 
Unfortunately, kids also routinely get foot and ankle pain from playing sports, walking or from the type of foot they were born with.  Whether it is a flatfoot or high arched foot called a cavus foot type. At The Foot, Ankle & Leg Vein Center our doctors are experienced in treating your child's foot conditions. Whether the injury has been present since birth or it is a new acute injury, we can help. Our doctor's will examine your child with a biomechanical examination and take on site digital x-rays to help determine the best treatment. We commonly see kids who failed treatment for Sever's disease, a painful heel condition of the growth plate, and once you make the correct biomechanical adjustments they are returning to sports and activity .
Visit a Foot Doctor in Boynton Beach for Ankle Injuries and Ankle Arthritis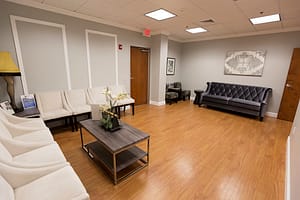 A foot doctor in Boynton beach can also help you with ankle injuries or pain in your ankle. Ankle arthritis is a painful slow gradual process that can make daily physical activities difficult. Arthritis commonly occurs in the ankle joint after a trauma.  It also occur from from an inflammatory process such as rheumatoid arthritis. Older patients are often believed to be more prone in developing arthritis, but in a post-traumatic injury such a rotational ankle fracture with cartilaginous damage, it can also commonly occur in younger patients especially from sports.
The following are non-surgical treatments that your doctor may recommend for an arthritic ankle:
Lifestyle modifications: Rest and reduce aggravating activities (i.e. running). Staying active with low-impact activities (i.e. swimming). Weight loss may also decrease stress on the ankle joint.
Physical therapy: Exercises to increase supportive strength and stretch the soft tissues around the ankle joint. Warm or cold compress to relax the stiffness and decrease the swelling of the ankle joint.
Shoe wear and/or orthopedic devices: Supportive shoes and orthotics to reduce the pressure place on the ankle joint. Taking care to avoid high heels and sandals. Assistive devices such as an ankle brace, cane/walker, or an ankle-foot orthosis (AFO).
Medications: Pain relievers, NSAIDs, and topical medications such as Voltaren gel, capsaicin cream, and/or Lidocaine patches.
Injections: Corticosteroid injections to decrease the inflammation or swelling. Hyaluronic acid to lubricate an arthritic ankle joint.